Hi



Many people have never had the chance or opportunity to learn how to ride a bicycle. More and more adults of all ages are calling us to book bicycle riding lessons. Others are looking for a refresher lesson.

If you don't have a bike now with which to learn, we can rent you ours and than help you decide what kind of bicycle to buy based on the kind of riding you wish to do, and the right size and fit for you.

Sometimes people want to try different riding terrains and renting a bicycle; be it a hybrid road or mountain bike for a few hours will help them decide which they would enjoy best. Booking a guided cycling tour will also introduce you to different routes and riding adventures.
So, what do think of our great Canadian weather?

You think it'll ever actually be spring?

I think maybe we got spoiled last year with such an early spring that we are just being impatient. Someone pointed out to me the other day that it has snowed in April in Central Ontario many times in the past. I guess I have selective warm weather memory!

You know, we in Central Ontario are blessed with a very beautiful region! We have it all....breathtaking bodies of water on three sides, some really nice trails systems for walking and cycling, flat land, hills, great forest trails for all season use, abundant history and an impressive arts and cultural community.

Being in the bicycle rental and tour business, we are always looking for ways to enhance the Simcoe County experience with great tour series. We offer just about every kind of cycling tour you would want, utilizing existing trail systems, roads and manicured pathways. A lot goes into the creation of a cycling tour that is desirable in terrain and within a specific length of time.

For instance, have you ever ventured out for a bike ride and ended up pedalling up hills you weren't prepared for or gone much farther than you wanted to go. Now, you still have to get back to your starting point. I know I've done that.

I remember once years ago, thinking I was going out for a leisurely ride to pick up some buns at the grocer's while we were vacationing in Horseshoe Valley at one of the resorts. Four hours later, I come back. I discovered the biggest hills and busy roads in the area! Peter was about to send out a search party to look for me. Well, the good news is, I also discovered some great routes that we finessed into a number of different tours for the enjoyment of our cycling guests (only 1 to 2 1/2 hours in length each).
Cycle Simcoe County with Us this Season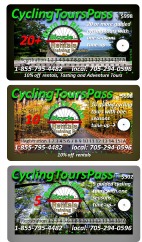 If you would like to experience some of these great tours and more this cycling season, we now offer Cycling Tours Passes. You can select a Pass for 5, 10 or 20+ guided tours to join from our Featured Guided Tours selection in our Happenings Calendar from May to October and save 30-50% over individual tours. Plus get a complementary basic tune up at any of our participating bike shops!

You are able to buy your Cycling Tours Pass online, from our participating authorized bike shops and other authorized sellers. Your Pass card will be mailed by post to you within 7 to 14 days, but you will be able to book a Featured Tour any time before with proof of purchase.

Go to this page for details


Until next month.....

To your cycling and powerbocking adventures

Anna (705)294-0596 1-855-795-4482