Hi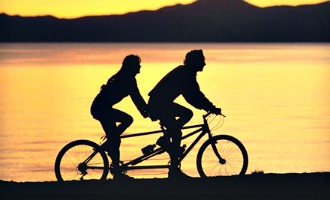 It may be February, but it's the perfect time to start planning your warm weather adventures!

We, at Born to Ride Bicycle are busy getting ready for our season, which normally doesn't start until May, but if we have a warm spell like last year, we will be ready earlier.
Lovers Deal
Book our Delectable Chocolate Tasting Tour by end of February and receive a 2 for 1 Gift Certificate for you and your sweetie. Born to Ride Bicycle receives a special room discount from Carriage Hills and Ridge Resorts in Horseshoe Valley you can take advantage of, too.

Here's your chance to have a very romantic adventure on us!

Offer is valid for any of the Delectable Chocolate tour dates already in our Happenings Calendar from May to October!
Early Bird Special
Book a guided cycling tour by March 15th from our selection of scenic, waterfront or trail tours to ride any time in May with 4 or more of your favourite people and everyone will save 30% off the price of your selected tour!

Check out the Happenings Calendar for open days in May.

As we get closer to cycling season, we will offer featured tours that you can join with your bike or ours. All tour prices include our bicycle and helmet. So, visit our website and check our Happenings Calendar often!

These special offers are only available to our Adventure Enthusiasts subscribers! Invite all your family and friends to subscribe to our News and Updates Newsletter so, they too, will be in the know and share in periodic savings on cycling tours!
Stay in Shape....
....over the winter months, when you may not be able to cycle, it's important to continue staying in shape.

If you're into winter sports, that will keep you fit (snowmobiles don't count). Skiing (downhill and cross country) or snowshoeing keep your heart and muscles health. Something simple like taking a walk each day for about an hour or doing an indoor cycling class will also ensure that you'll be ready to get on your bike come spring.

Once the season starts, condition yourself with shorter rides to get into the groove and not overwork your muscles but work up to longer distances each time you ride. It may be a good idea to time yourself, too. Set a goal to reach 50 km within 3 hours in your training. This will condition you to do any of our guided tours with us.

Now, if you are an avid cyclist, your goals will be more aggressive. Peter, our adventure guide, achieves 50 km within 2 hours. You, road warriors, would enjoy our elite series of tours.

Either way, warm up to your riding distances so you don't over burden your muscles or your heart.

Until next month.....

To your cycling and powerbocking adventures

Anna (705)294-0596 1-855-795-4482