Our Tour Guides
Our tour guides will ensure you have a fun and memorable cycling experience.
They are all qualified to lead novice and experienced riders on tours of a variety of terrains and skill levels.
Each one of our tour guides have passed a time trial of completing 50+ kms within 3 hours, have CPR and emergency response training and can do emergency bike repair within a tour group so the tour may be completed.
Our guides are as varied as our tours! We will do our best to match our guide to your party's reguest. Reservations required for all guided tours and mobile bicycle rental.

Meet......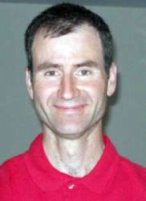 Peter, owner and avid cyclist.
Loves challenging himself and others on road and off.
A lifetime love affair with cycling inspired this business.
Has been know to get on his bike and cycle from Barrie to Waterloo, to Quebec and back and around our country's capital.

Looking forward to challenging other cyclists to our Elite Series of tours!



When not working behind the scenes,
Anna leads many of our waterfront and historic trail tours.
She's spend many years leisure cycling throughout Southern and Central Ontario.
Likes to keep up with Peter on the tandem bike!
Tour Guides - Scenic Cycling Tours - Mountain Bike Tours -  Tasting Tours - Home