Waterfront Heritage Cycling Vacation
An exciting one of a kind waterfront heritage cycling vacation will have us travel leisurely along the shores of Lake Simcoe, Lake Couchiching and North and West Georgian Bay, exploring quiet country roads and county trails.
Each day will find us in a different community!
Barrie Tourism 2013 New Product award recipient

Your Seven Day Waterfront Heritage Cycling Vacation includes accommodations, meals, snacks, site admissions, professional tour guide and support vehicle for luggage, purchases and emergency bike repairs.
                   July 16-22, 2016 Tour                     
$1,990/person
This vacation tour is recommended for participants ages 12 and up with moderate or higher riding skills.  Once you book your tour, we will send you details on how to ensure this is a wonderful riding experience for you.

*Last day to book  tour: June 15th 2016
Don't want to bring your own bike? Reserve ours for the week!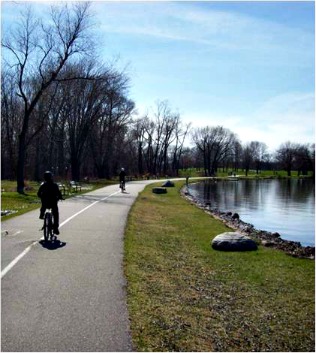 Highlights of your cycling vacation:
You will stay at prearranged area hotels and inns that meet our high quality standards.  Our goal is to ensure you get the best rest you can each night.  Many of our partner accommodations have indoor pools and hot tubs and provide delicious continental or full breakfasts.
Our culinary partners will dazzle you with amazing local cuisine and a delightful atmosphere, giving you a real taste of our Canadian hospitality!

Day 1  
You'll arrive at our partner hotel in our region's largest waterfront cities and after settling in, check your bicycle with our support vehicle driver or get fitted for your rented bicycle and gear.  You will enjoy a wonderful dinner and meet fellow cyclists and your tour guides.
Day 2   approximately 64 km - easy to moderate ride
After a hearty breakfast, we will travel to our starting point and pedal along the breathtaking shores of Kempenfelt Bay and Lake Simcoe.  Our route will take us on historic rail trails and serene country roads with plenty of time for picture taking along the way.
We'll stop at scenic rest stops to enjoy delicious snacks and a wonderful lunch before arriving at our next waterfront community.  We'll stop to visit one of this area's famous museums and at local market or bakery to temp your taste buds with delicious treats.
After checking into this evening's accommodation, you'll be able to share your adventures with new friends over a lovely meal.
Day 3   approximately 70 km - easy to moderate ride
Today's ride will take us along other historic trails and roadways with stops at an Ontario farm, a quaint village for lunch and harbour towns along beautiful Georgian Bay.
We'll get a fascinating tour of the last Edwardian passenger steamship in the world from around the time of the Titanic, now docked at a Georgian Bay harbour park.
Day 4   approximately 31 km - easy to moderate ride
Today we'll take it easy on the riding because there is so much to see and do in this lovely part of the county.
You'll have a couple of hours to visit a famous wetlands and wildlife centre for a leisurely walk along some of its scenic trails or a guided canoe ride along the marsh routes the Huron Indians used to take.  And visit an early settlement to experience the life and times of the French Jesuit priests.  Or, take a pilgrimage around the stations of the cross at this famous shrine that honours the Jesuits saints that brought Christianity to Canada over 380 years ago.
We'll pedal over to a waterfront park to enjoy the serene paths before exploring some more 1800's history.
Day 5    approximately 54 km - moderate with some hilly areas
We can't leave these harbour towns without a visit to a historic naval and military base in Simcoe County's French bilingual community.
Some of the manicured trails we enjoy today will have us riding over many bridges with twists and turns.
Lunch will be served on the patio of this cool little restaurant overlooking the beach (weather permitting).
We'll pedal along toward another beach town of where you can dip your toe into the water from the shore of the world's longest freshwater beach!
You'll experience a breathtaking sunset while enjoy a delicious meal at a lovely eatery.
Day 6    approximately 39 km - easy to moderate ride
We'll start our day one hour later today, and visit a historic island museum, theatre and lighthouse that mark the spot of the courageous battle of 1812 this famous schooner and its crew were a part of.
We'll travel to another harbour town for lunch and enjoy an afternoon of shopping with a stop at area museum to learn more about its ship building history.  This little town also hosts the world's largest Elvis Festival every August!
Day 7     approximately 74 km - moderate mostly road riding 
Today's ride takes us inland and through another lovely village where you can enjoy the many shops and tastes.  We'll stop in a scenic conservation park to enjoy the lovely view before continuing on to the town that's home of Canadian Forces Base Borden for a well deserved lunch!
Last stretch of this scenic route on the way back to our start hotel and our farewell dinner celebration!
(optional 7th overnight stay in Barrie)

We recommend you spend another night in the area to enjoy the sights and sound of this growing community.  Book this option the same time as the rest of your cycling vacation.
This Waterfront Heritage Cycling Vacation makes a fabulous gift or celebration to share with your loved one!  Gift Certificates available. 

Please read our Policies and booking schedule before booking this exciting cycling tour.

 If you would like to enjoy this amazing waterfront heritage cycling vacation with your group of 6 plus participants, we can help you plan your own private week.  Contact us for details.
Take a look at some of the wonderful things Simcoe County has to offer residents and visitors alike!