Bicycle Rentals Repairs, Mobile Services, Tours, Activ-Excursions, Training
NOW SERVING CENTRAL ONTARIO!
Whether its one person taking one of our One Hundred (100) guided cycling tours or 80 cyclists on several of our guided tours.
We maintain a fleet of Eighty (80) RENTAL bicycles. Our stock consists of Hybrid, Mountain, Road, TANDEM, and a variety of specialty bicycles. click on the bicycle rental tab.
We offer 45 minute to 2hour-3hour to multi-day cycling tours. We can even customize a tour the same day, so you can say "What a Ride"! Many of our customers return after there ride with a big smile of accomplishment.
Even though Born To Ride Bicycle's head office is located in Barrie Ontario, we have serviced many organizations and events throughout Central Ontario, providing years of experience. We offer consulting and R&D. (min. Charge $1000/day)
We can give you the support you need to accomplish your cycling goals.We offer training in Barrie, Horseshoe Valley, Innisfil, Newmarket, Vaughan, North York, Toronto, Milton, Kitchener-Waterloo, Burlington and OTTAWA!
We offer Mobile bicycle repair to the local home owner, remote communities and Resorts maintaining their fleet of bicycles.
We offer over 90 guided tours, and now Activ-Excursions: packed awith plenty of exercise meals, wine tasting and transportation! Covering Georgian Bay, Lake Simcoe, Lake Couchiching, Lake Ontario, and Niagara-On-The Lake. The majority of our tours are within Simcoe County come up north and experience the Mecca for Cycling enthusiasts, in Ontario!
Go exploring by bike! Our selection of bicycle rental and tours will let you get up close and personal with parts of the beautiful region of Simcoe County you just can't get any other way.

All just 1 hour north of Toronto!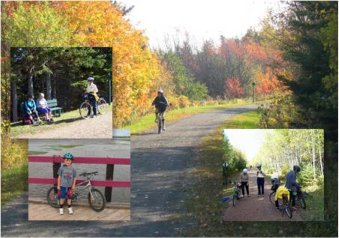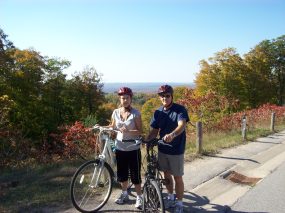 "You guys were the best! GREAT AMBASSADORS FOR Canada!!!!Thank you so much for an amazing tour." Tom & Nancy C. CA, USA

Simcoe County has some of the best cycling opportunities in Ontario.
So, rent a bike for a couple of hours, the day or even longer and see what adventures are in store for you!
Our fleet includes:
Road bikes
hybrid lifestyle bikes
mountain bikes

tandem  (bicycle built for two)

and children's bikes and accessories.
We can deliver to your location, one of our staging areas, to a desired route point or meet up with you at a designated stop along the Highway #400 if you want to take a bicycle to your cottage.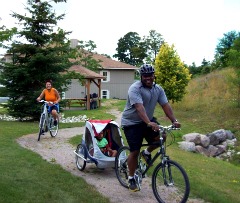 Or...
For a really unique and wonderful cycling experience, book one of our guided cycling tours along waterfront trails, beautiful country roads or forest trails.  Your tour may stop at an area attraction, art studio, market or vendors along our route.  You may even get a chance to pet a farm animal at a local farm!
Get a real taste of Ontario with our Cycling Excursions to area wineries, breweries or chocolatiers, than consider a delicious meal at one of the area's local culinary establishments. 
Get off the road and into the woods with our Mountain Bike adventures  and Bike and Swim Camps in some of our area's majestic forests.

We can also customize any of our bicycle rental and tours for your next event:

Whether you are coming up from the GTA by car or GO, staying at one of our beautiful resorts, hotels or B&B's, we have something for everyone to enjoy by bicycle in our beautiful region.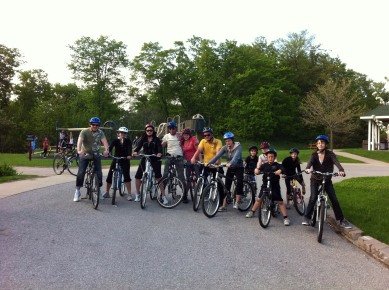 Reservations

are required for all  bicycle rental and tours.  We recommend booking at least 48 hours ahead.
We invite you to our world. Rent a bicycle,
take a guided bicycle tour or even learn to ride a bike.
Come for the day, the week or even just a few hours.
You'll be glad you did!

 Proud recipients of three Barrie Tourism Awards! 2011, 2012, 2013