Learn to ride a bicycle or advance your skills
Learn to ride a bicycle whether you are young or young at heart!  Cycling is too much fun not to!
Available as soon as weather permits in the Spring and continue throughout the cycling season!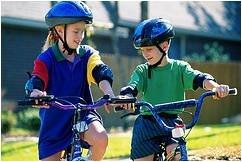 With guidance and patience, our trainer will have you riding with confidence in no time!
Just think of all that you can see and enjoy on your bicycle.
The trails you can blaze.....!


"I'm so excited!  Now I can join my husband and kids on bike rides.  Peter is great!" AJ, Milton, ON.  Had her training while on vacation.
Born to Ride Bicycle supplies you with the right bike or ensures your bike is the right fit, proper helmet and even elbow and knee pads. 
You supply the enthusiasm and energy!
You know it takes a bit of energy to ride a bike?  ...but, don't fret!
We will work with you slowly but challenge you to success so you can shout "WOW...what a ride!"


Private 2 hour training includes: 
Training bicycle

Focused & motivated training technique

Balance techniques & skills development

Overcoming fears & challenges

Practice and training specific to the individual requirements

Riding in safe environment 

Access to $5000 in training equipment

Proper bicycle fit and style for riding style

Testing through obstacle course
We recommend that you wait to purchase a new bicycle until after your training if you don't have one already.  We find many students are buying the wrong type or size of bike for their needs.
Choose from locations in Barrie, Innisfil, Horseshoe Valley or Vaughan/Woodbridge and now Downtown Toronto, North York, Milton and Kitchener/Waterloo.  Reservation required.  Book your training, today!
Please note:  if you bring your own bike, it has to be in riding condition or else there will be a charge for servicing it.
Once we've confirmed your date, time and place, please secure your reservation by credit card.  We use PayPal for secure and confidential payment.  (you do not need a PayPal account make your payment)

Includes Training Bicycle
---
Special Family Learn to Ride: total 3 hours for two children under 12 years of age at the same time. Bicycle rentals optional.
Our trainer will devote 1 hour each child and 3rd hour combined.  Great way to learn to ride together!
Available at all the same locations as private lessons. 

Special Teens Learn to Ride: total 3 hours for two Teens age 13 to18 years of age at the same time. Bicycle rentals optional.
Our trainer will devote 1 hour each teen and 3rd hour combined.  Great way to learn to ride together!
Available at all the same locations as private lessons.
---
Advanced Training for Road or Trail
If you are already a good rider, but want to train for more endurance or a special event, we can help.
Proper technique and posture are critical to keep you in top form for those challenging rides. 
Take our 2 hour training tailored to your skills sets.
CycleSafe
CycleSafe is two - 2 hour training sessions one day after next or scheduled on 2 dates that are compatible. Preferably minimum two participants at same time.

CycleSafe is a training course for cyclists wanting to ride the roads but have fear of cars or want to learn how to:

Communicate with traffic

Ride with traffic

Interpret drivers habits and patterns 

Be in control of your situation

Ride roadways with confidence

Ride roadways with skill  

Ride with improved performance

Get cross training on different terrain to improve your skill set.

Learn disciplined safe habits 

Interpret different types of surfaces and the effect they have on you and drivers

Be in control at all times 

Dressing for weather conditions
CycleSafe is designed for varying levels of skilled cyclists.
It offers an opportunity to ride a variety of bicycles as well as help a new cyclist with choosing the right bicycle and fit.
Please note: if you have not ridden a bicycle before or not in a long time, must start with Learn to Ride training first.
A pre-test may be required to ensure riding ability is sufficient for learning to ride in traffic.
We ride rain or shine!
If you have any questions please email or call us. We look forward to hearing from you!
ALL CANCELLATIONS must be made by calling our reservations line at  1-855-795-4482 by 5pm on the day prior to your training, rental or guided tour.   NO EXCEPTIONS. If you cancel after this time, or fail to cancel, your Credit Card will be charged the full amount of the booked activity.
Celebrate your riding success
Now, that you have learned to ride, join your instructor and fellow LTR students for a group ride!

Learn to ride and enjoy the cycling season where you live or where you play!
---
Bicycle Safety Tips
Peter will teach you all the bicycle safety tips you will need to know before you ride your bike on roads, paths and trails and how to stay safe.
You can't always control what a vehicle driver will do or not do, but you can sure control that you use all the safety rules of the road correctly and at all times. With Peter learning those rules can be a lot of fun whether you are a child or just young at heart.
Peter Says

Don't even attempt to ride on the road until you are well balanced and know how to operate your bike.
Pick a safe, no vehicle traffic area to practice (if child, with an adult to guide you).
Always wear a bicycle helmet and make sure it is the right fit for you.
To avoid scrapes and scratches, wear elbow and knee pads (optional).
Make sure your bicycle is well equipped with lights and reflectors, bell or horn and well tuned brakes and gears.
Your bike should be a proper fit for you. Too large, and you risk getting hurt when you loose your balance. Too small, and you will work your leg muscles too hard. Many bicycle shops will work with your child and let you trade up as your child grows (ask their policy on this).
Learn some basic bicycle repairs and always have a Bicycle Repair Kit with you when you are travelling.
Water bottle and cage are highly recommended for any trip.

These tips may seem common sense, but you would be surprised how many cyclist don't have much sense!
Download a copy of Cycling Skills or receive your FREE copy with your bicycle riding lesson! Born to Ride Bicycle can also come to your school, boys & girls club or adult group to help you learn to ride a bike! (suitable room to manoeuvre a bicycle must be available). Or, book a lesson for your group at one of our mobile locations.