Gift Certificates
Choose Gift Certificates for your cycling enthusiasts!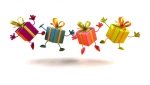 Born to Ride Bicycle will custom create a Gift Certificate especially for your recipient to your specifications.
Choose a dollar amount in whatever denomination you wish.
Or
Select a guided scenic or tasting tour by name and we will only print tour name without any dollar amount on certificate.
Many individuals would love to ride but do not know how!  A Gift Certificate to Learn to Ride is perfect.
Once we have all the details of your request, we will create your Gift Certificate and send to your email (we use PayPal for your convenience and security).  When payment is received,  we will send the Gift Certificate in way you requested. 
Please note that if you would like us to send Gift Certificate(s) by Canada Post to include recipient's full name and complete address.  Allow plenty of time to ensure gift certificate arrives when you want it too.
Gift Certificates requested by email attachment,  allow 24-48 hours from time of payment received.
I got this great Gift Certificate.....
Call or email Born to Ride Bicycle to book your tour or lesson or if dollar amount, for whatever service we offer.
If you would like to include others to participate with you, just have them book their tour, lesson etc.from the respective page tab and add a note that they are part of your party!  That's it.
ENJOY